Mythos Village Limassol
Daphne Luxury Residence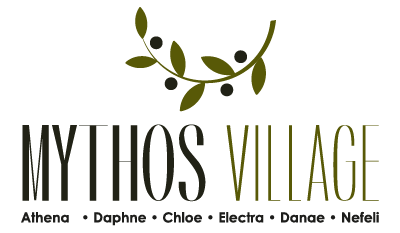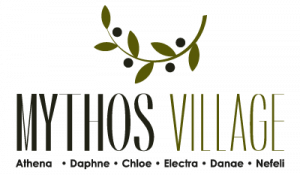 The residence consists a total of three-bedrooms, with two other extra rooms. Spacious 4-car port, half of it covered, storage rooms, covered terraces, pool, big yard and garden.
Exploiting the characteristics of the sloping site, the structure steps with the slope, having two floors at ground level and a raised, above ground level, third floor. The common zone spaces i.e. the living room, the dining room, the kitchen, the laundry room and the guest bathroom are placed on the south part of the intermediate floor. On the west part of the same floor, the two bedrooms and their bathroom are situated. The master bedroom with an en-suite bathroom and a roof garden are placed on the top floor. The terrace on the top level, – semi-covered – offers unobstructed views of the surrounding hills and the natural landscape of the region.
The common zone spaces (living room, dining room and kitchen) are arranged linearly in a large, united space and are directly associated with the adjacent verandah, the courtyard and the pool having views to the south. The double height of the living room and verandah creates a majestic space with a unique ambiance.
The garage and the storage rooms are placed on the lower, base floor. The three levels of the residence are connected with and served by an elevator.
The residence design considers bioclimatic parameters and employs bioclimatic principles, aiming for solar gains in the winter, shading in the summer, comfortable, well-lit and well-ventilated spaces at all times.
Despite the modern architectural design, there is direct reference to the regional and Mediterranean tradition, not only through the use of traditional materials (stone, wood etc.), but also through the organisation of the interior spaces, making use of the semi open-air spaces and outdoor spaces as vital parts of the residence.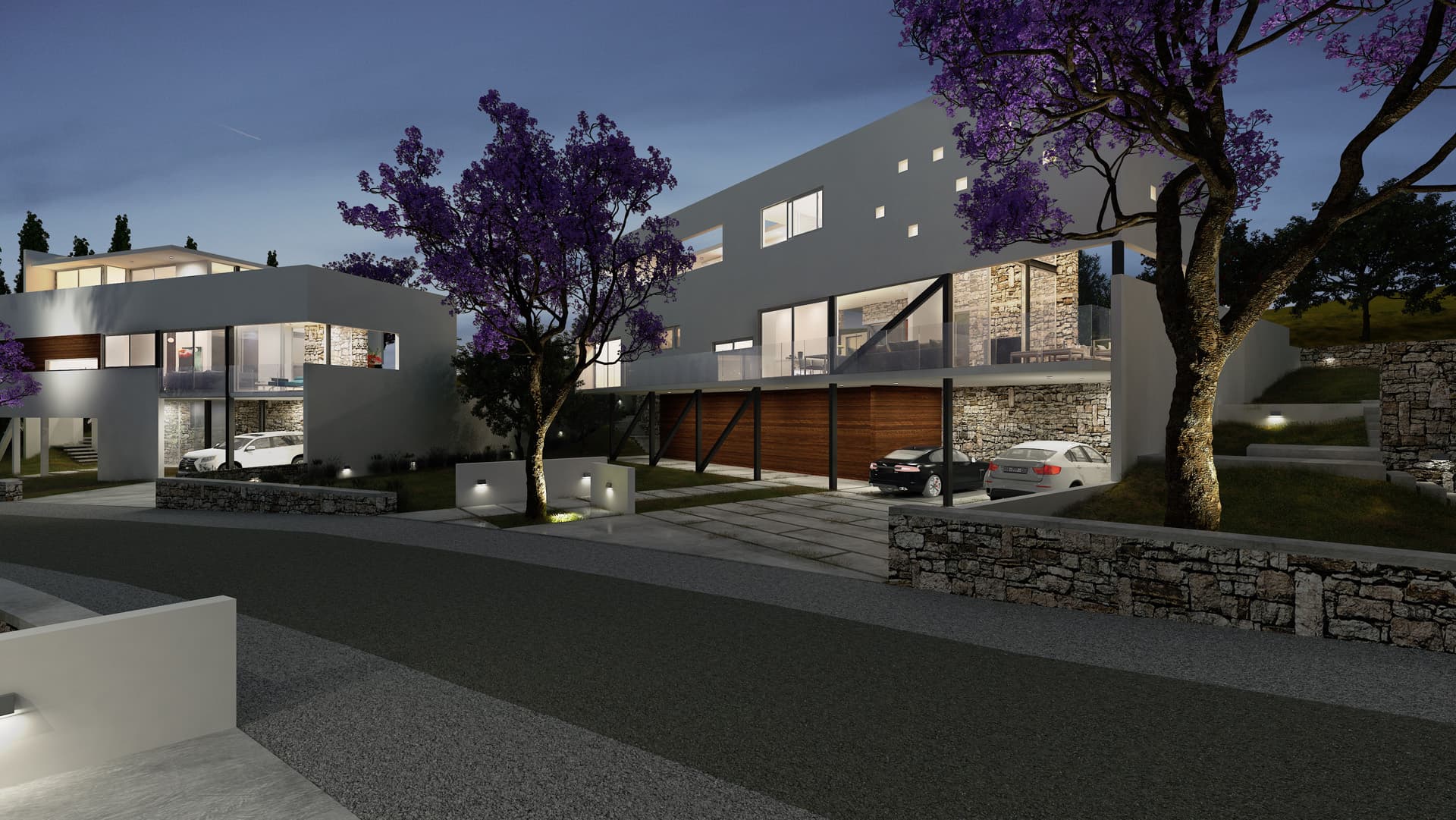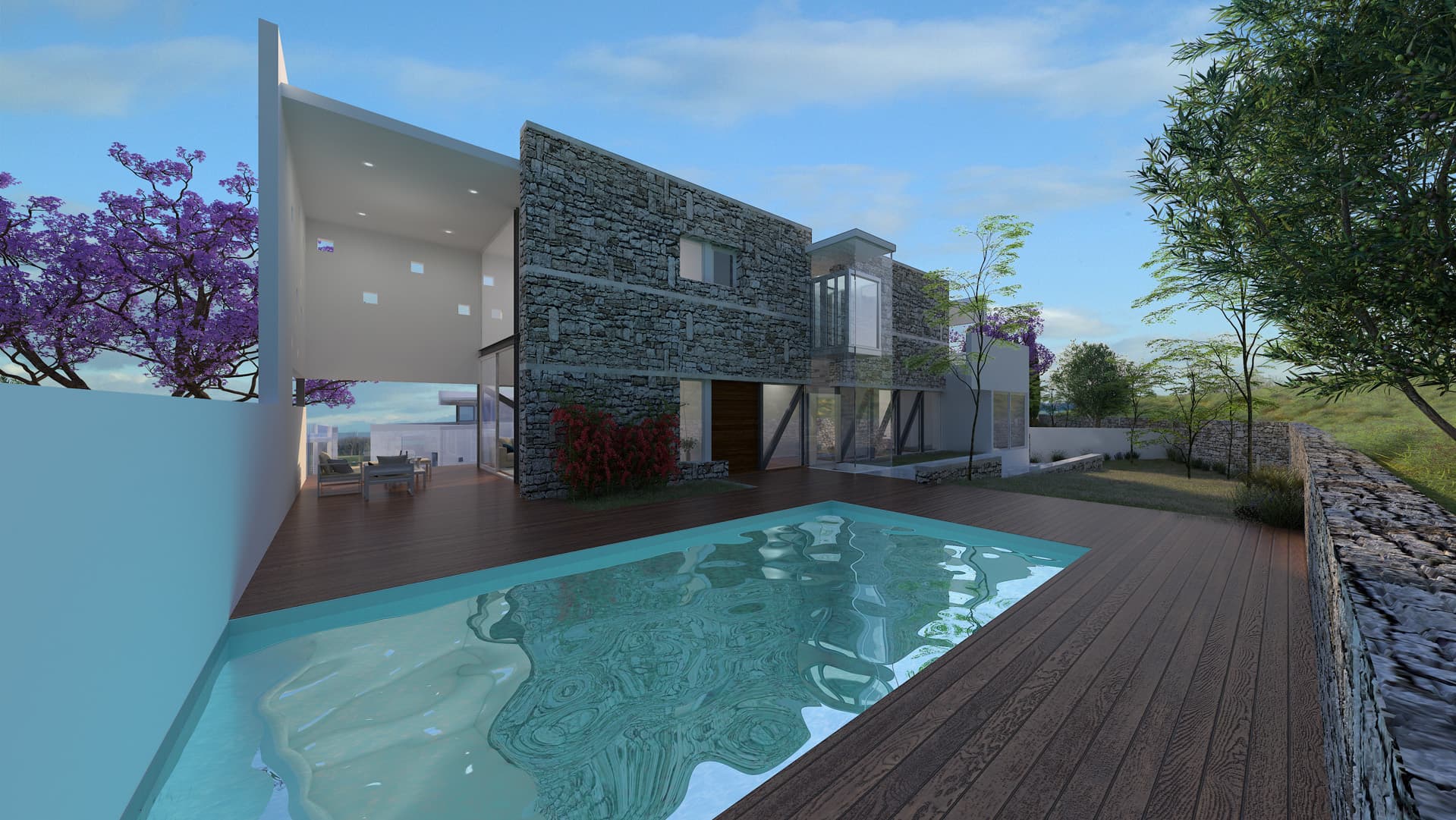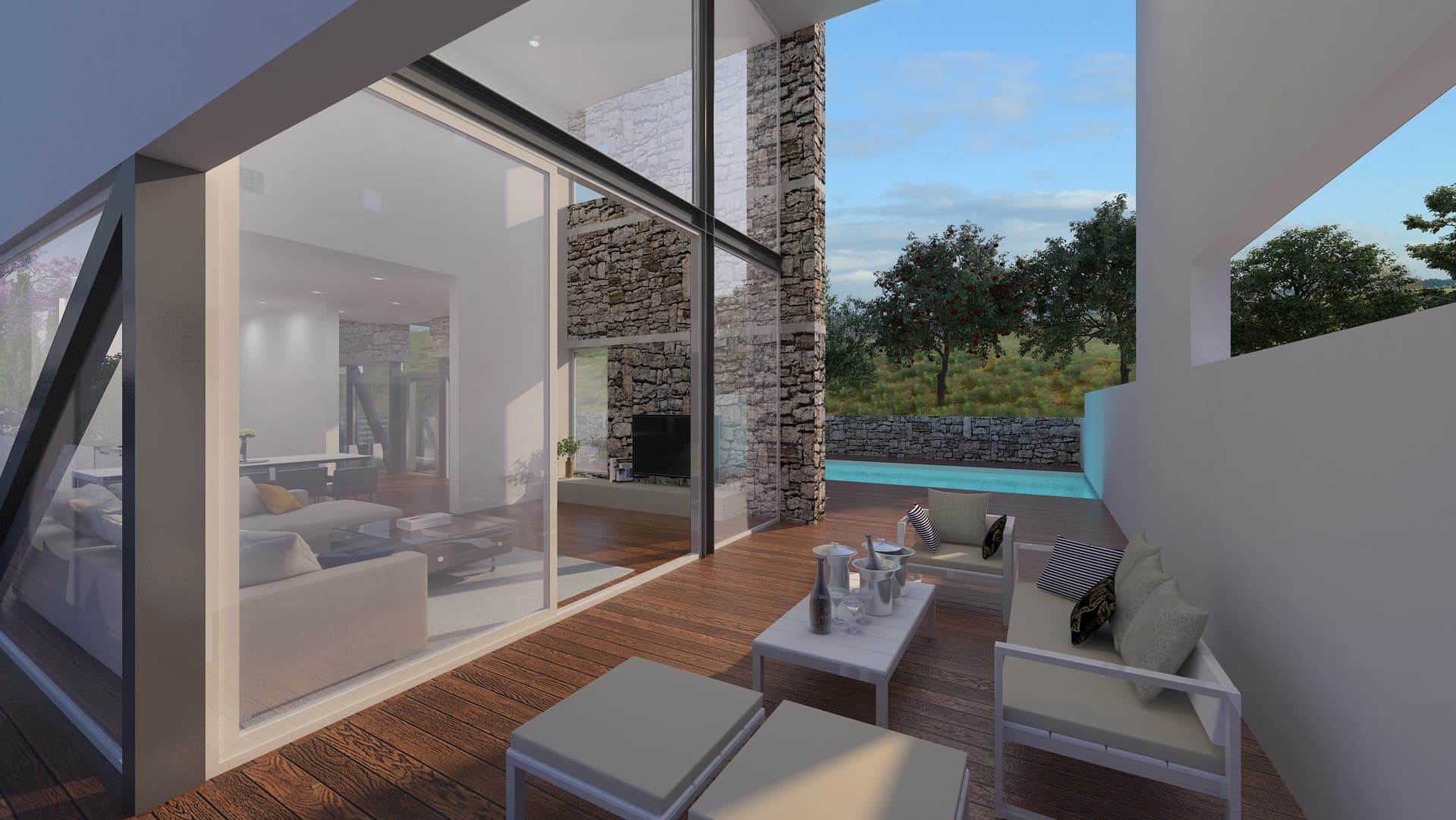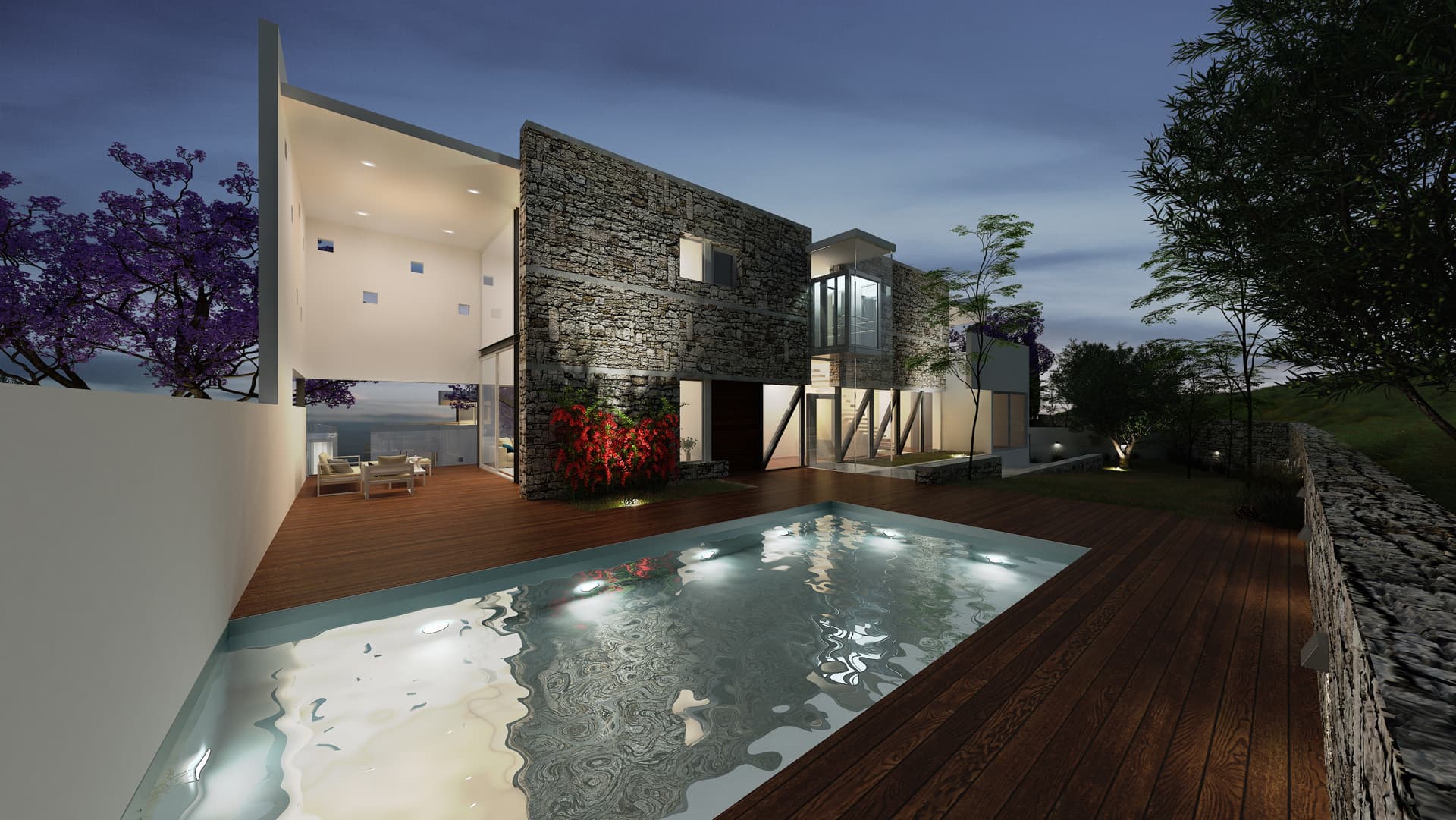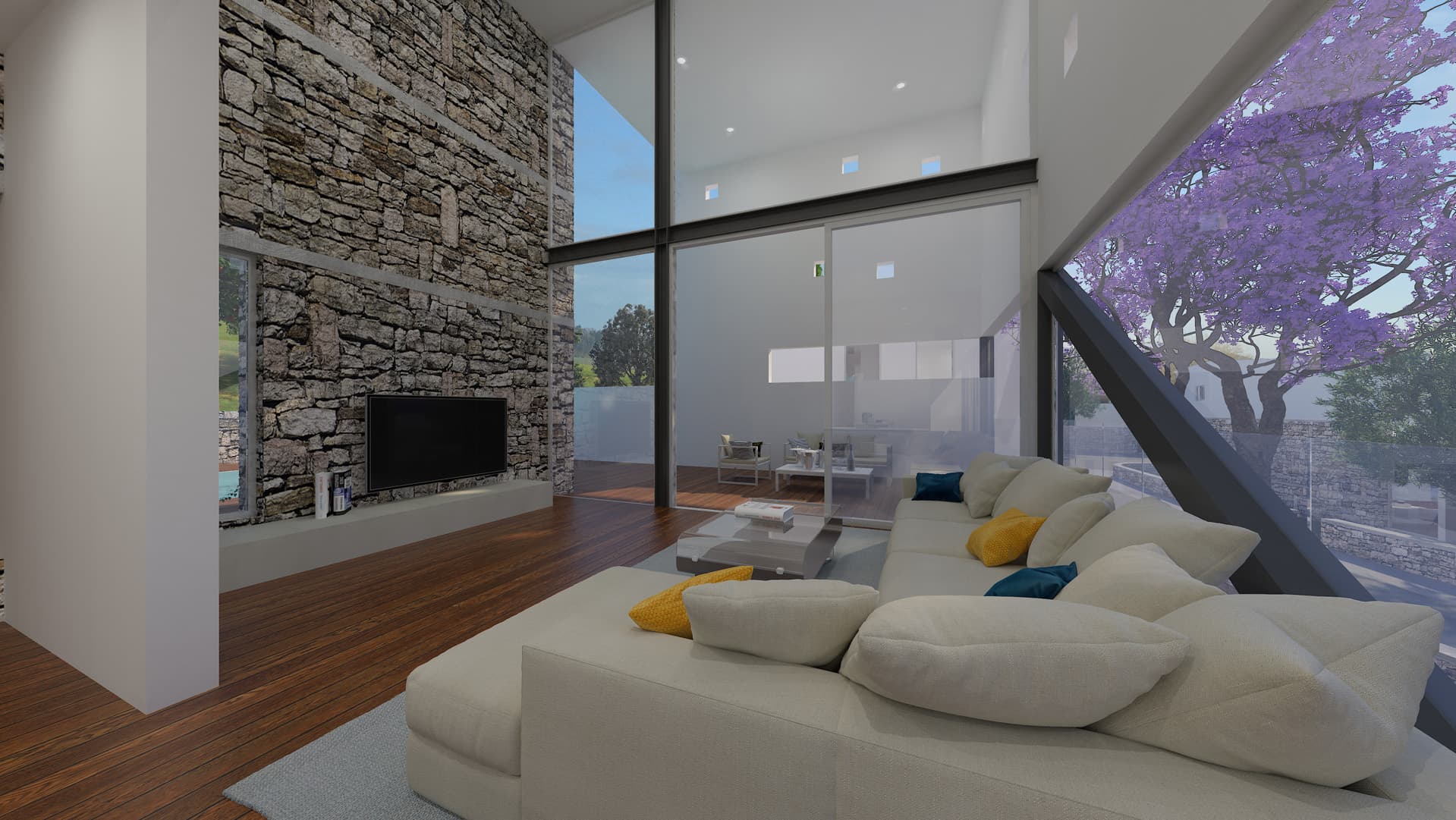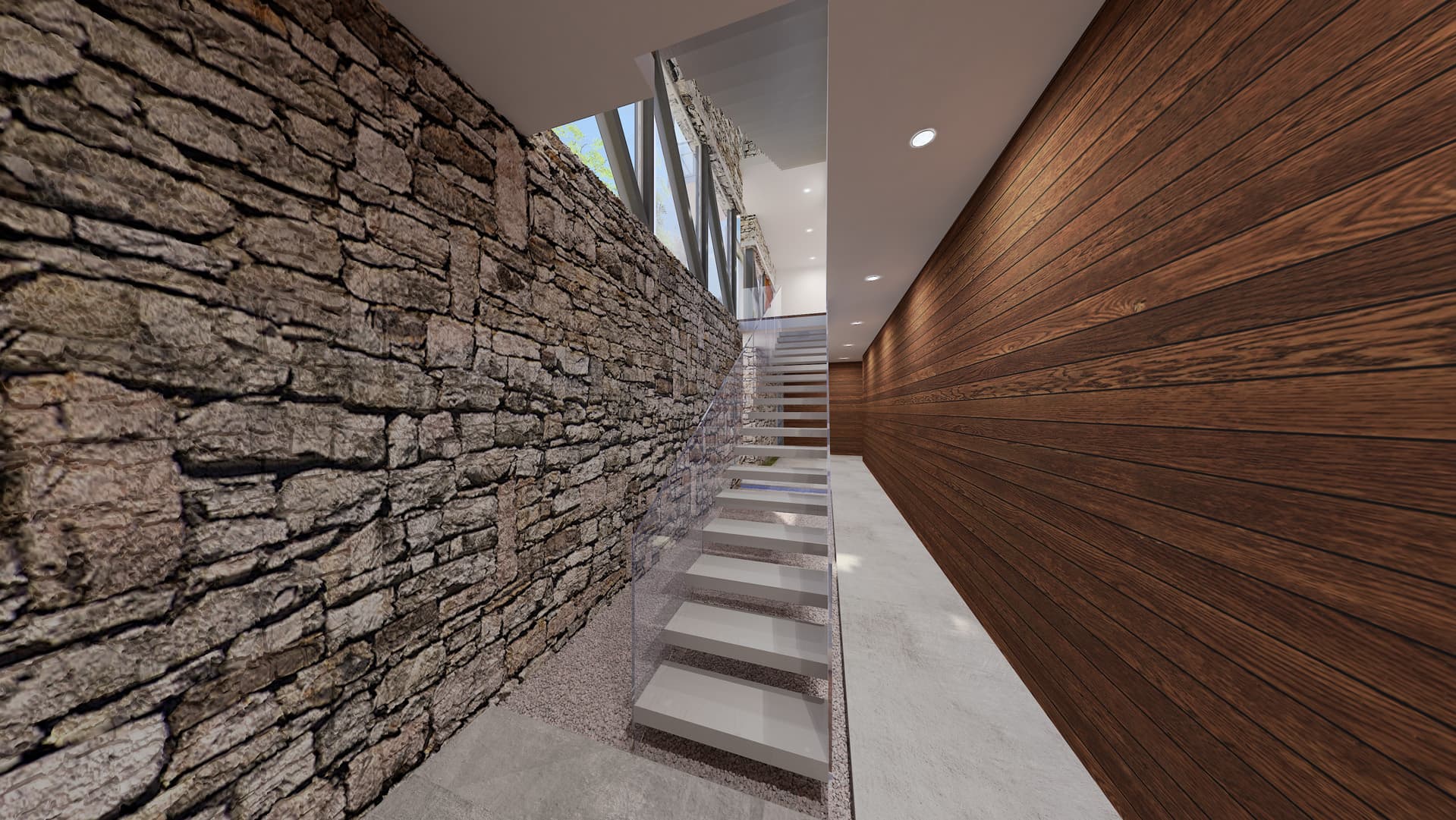 | | |
| --- | --- |
| Ground floor 1 | 58 m2 |
| Ground floor 2 | 136 m2 |
| 1st floor (m2) | 41 m2 |
| Covered Terraces | 57 m2 |
| Uncovered Terraces | 173 m2 |
| Covered Parking Space | 59 m2 |
| Other Semi-opened Spaces | 84 m2 |
| Area of the pool | 32 m2 |
| Plot Area | 989 m2 |
| Overall area of Indoor spaces | 235 m2 |
| Indoor & covered spaces | 351 m2 |
| Bedrooms | 3 |
| Extra rooms | 2 |
1 / 2 COVERED PARKING AREAS
2 / 2 UNCOVERED PARKING AREAS
3 / ELEVATOR
4 / SPACE FOR EXTRA ROOM
5 / EXTRA ROOM
6 / ENTRANCE HALL
7 / INTERNAL STAIRCASE
8 / EXTERNAL STAIRCASE
9 / FRONT ENTRANCE YARD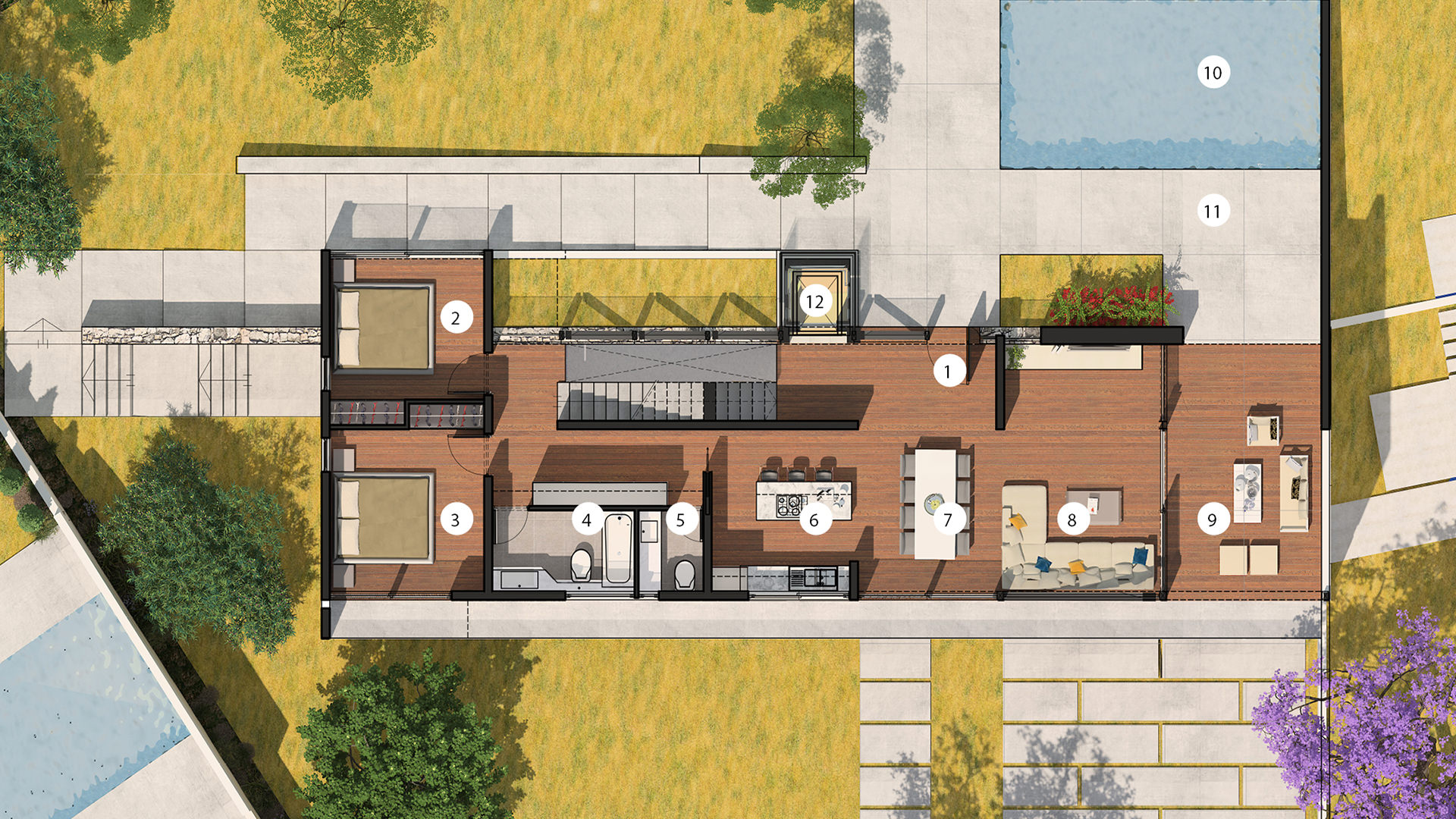 1 / MAIN ENTRANCE
2 / BEDROOM 1
3 / BEDROOM 2
4 / BATHROOM
5 / GUEST WC
6 / KITCHEN
7 / DINING ROOM
8 / LIVING ROOM
9 / COVERED VERANDA
10 / SWIMMING POOL
11 / SWIMMING POOL YARD
12 / EXTERNAL STAIRCASE
13/ INTERNAL STAIRCASE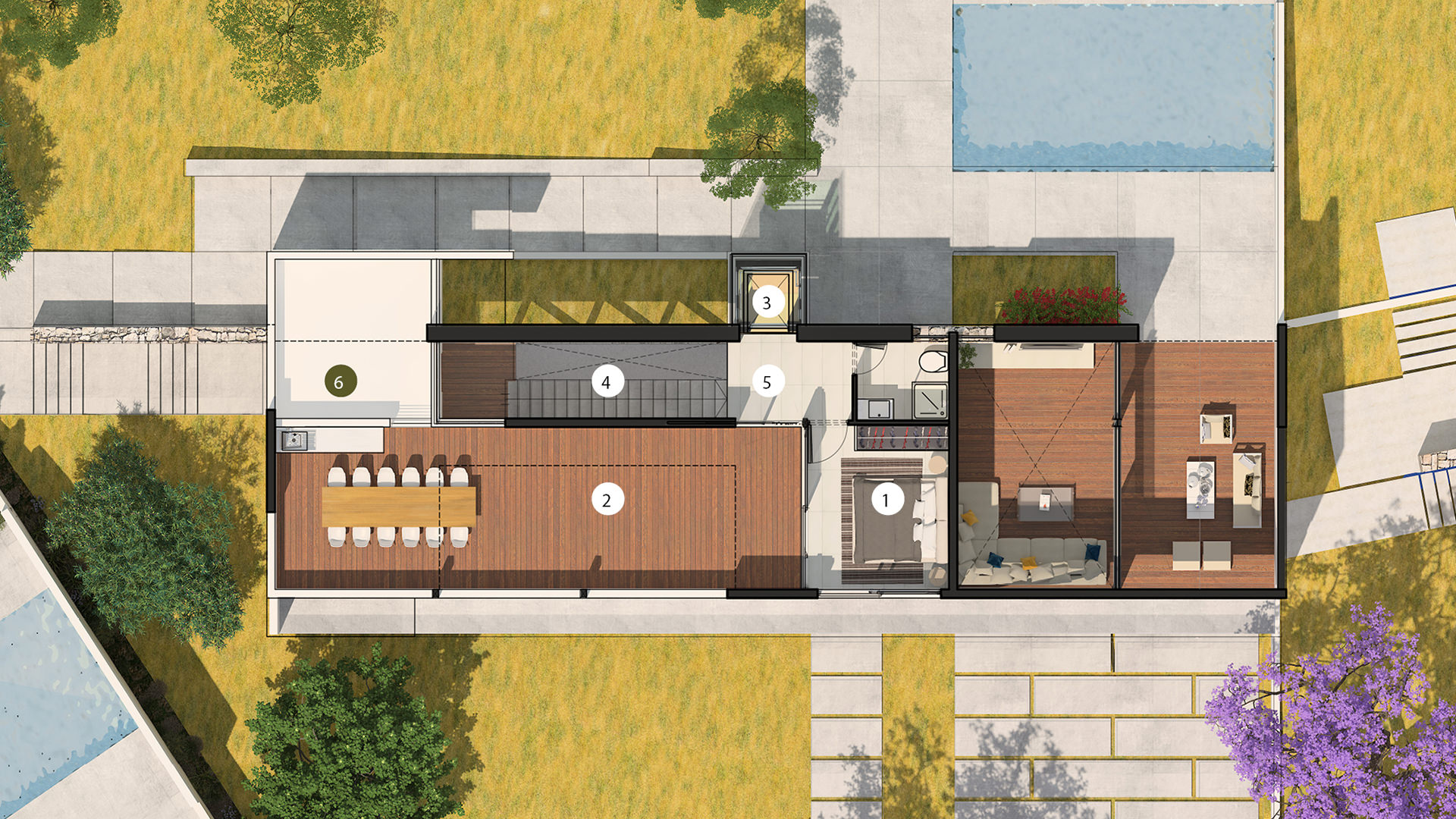 1 / MASTER BEDROOM ENSUITE
2 / ROOF GARDEN
3 / ELEVATOR
4 / INTERNAL STAIRCASE
5 / ENTRANCE HALL
6 / SPACE FOR EXTRA ROOM