Mythos Village
Athena . Daphne . Chloe . Electra . Danae . Nefeli
Modern architecture in a natural environment
Mythos Village. Upscale Luxury Residences in Limassol
The objective is to create a neighborhood -type residential complex, with luxurious villas, where the individual is an integral part of the combined total, in a way that each residential unit, while being different from the rest, with its own unique and distinct character-identity, at the same time it is organically integrated into the combined total.
Exploiting the geometric characteristics of the site and the significant difference in altitude (a range of 11-12 meters from the lowest to the highest point), the residences are arrayed amphitheatrically around a curved road which ends up to a small square. The public green space, in the South is connected to the square with a pedestrian zone, as a continuation of the public space.
Following the topography, the residences are organized into two or three levels, the two of which are the «ground levels». Furthermore, their height and bulk are varied in an effort not only to achieve an interesting massing of the whole, but also to take advantage of the views towards the surrounding landscape and the hills.
Architects of the project: Architectural Workshop Agisilaou & Kalavas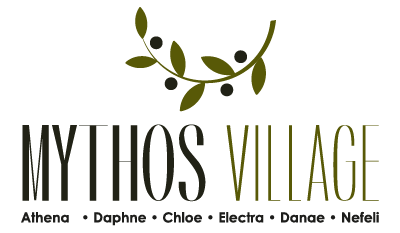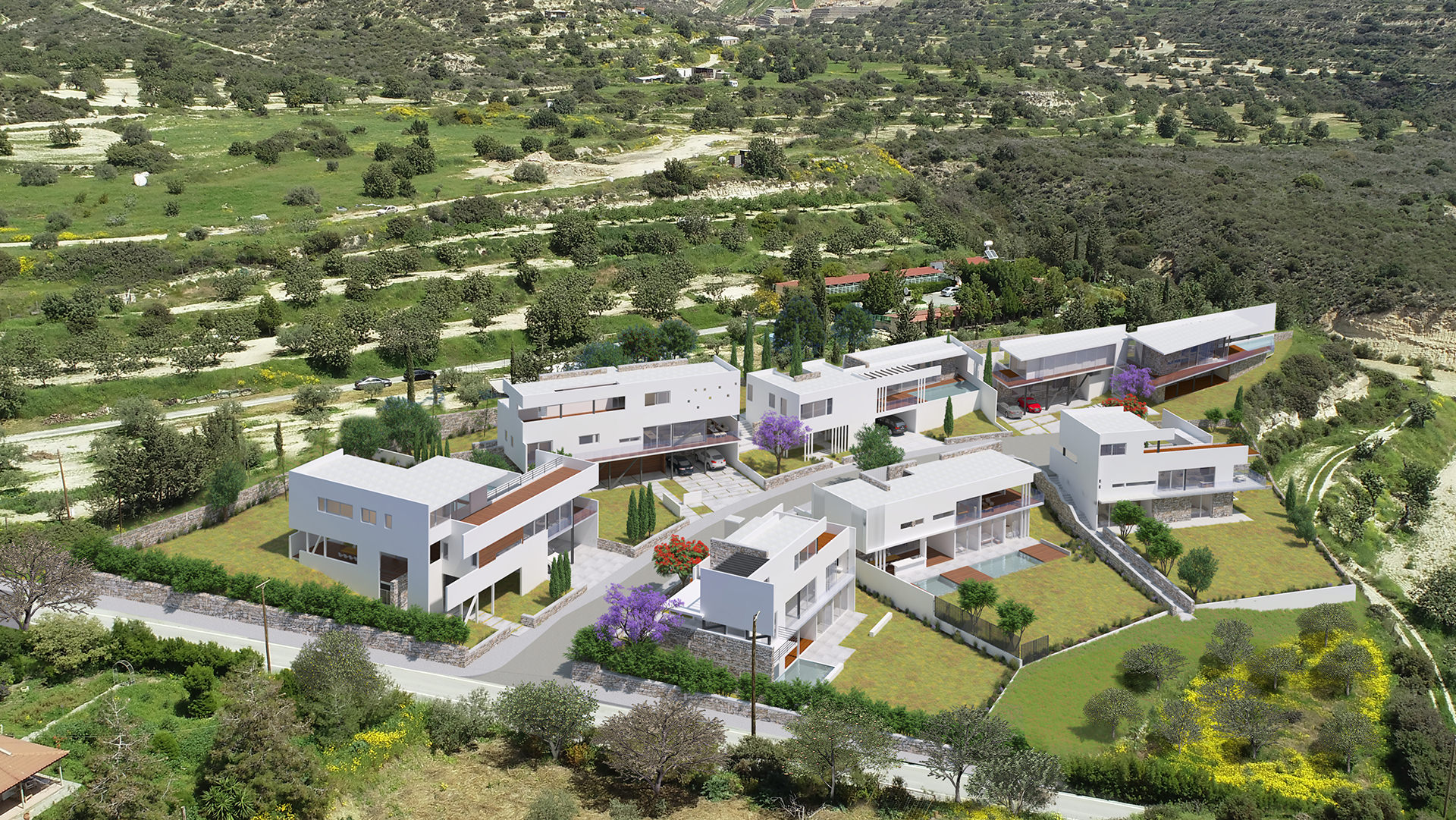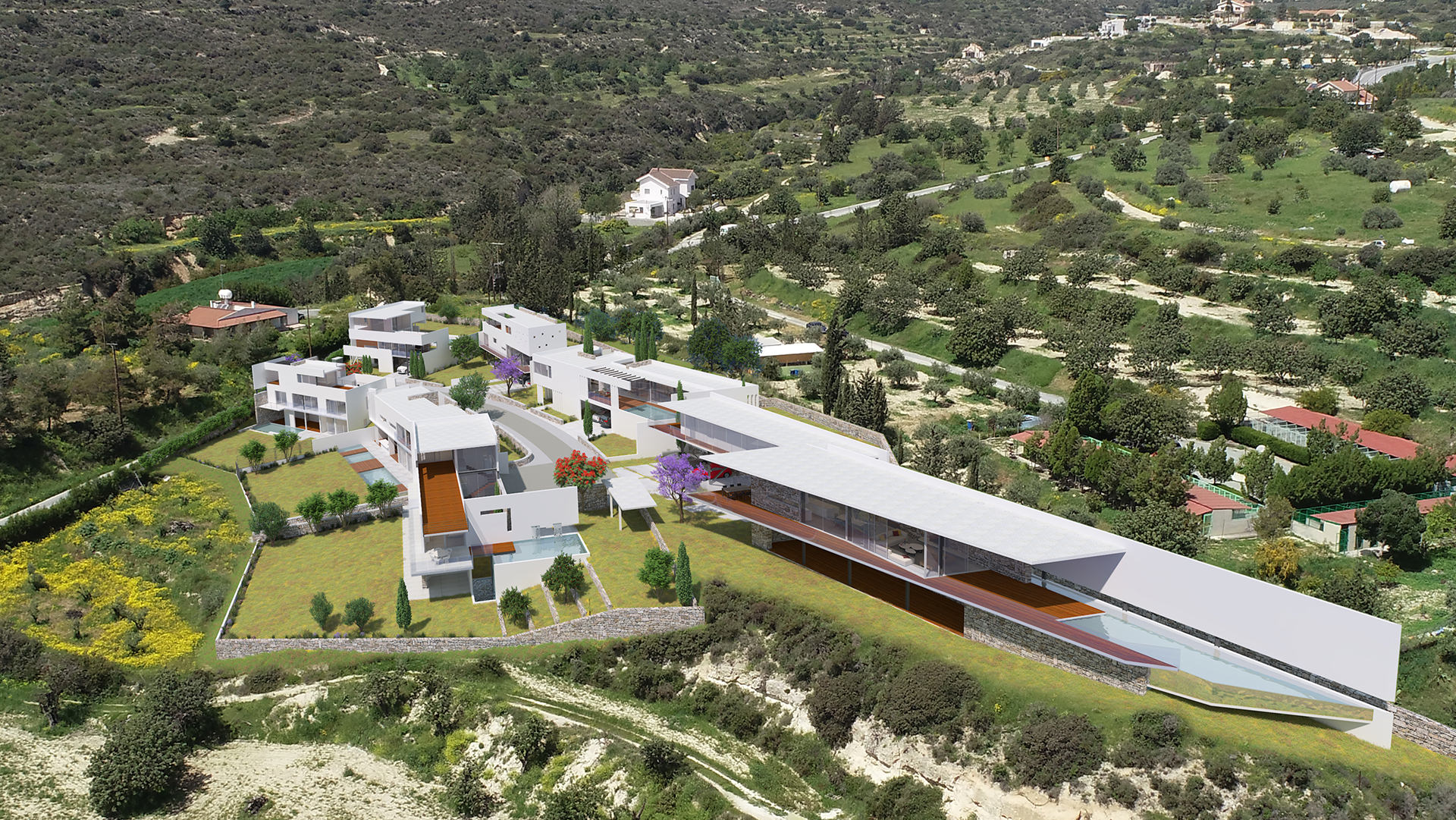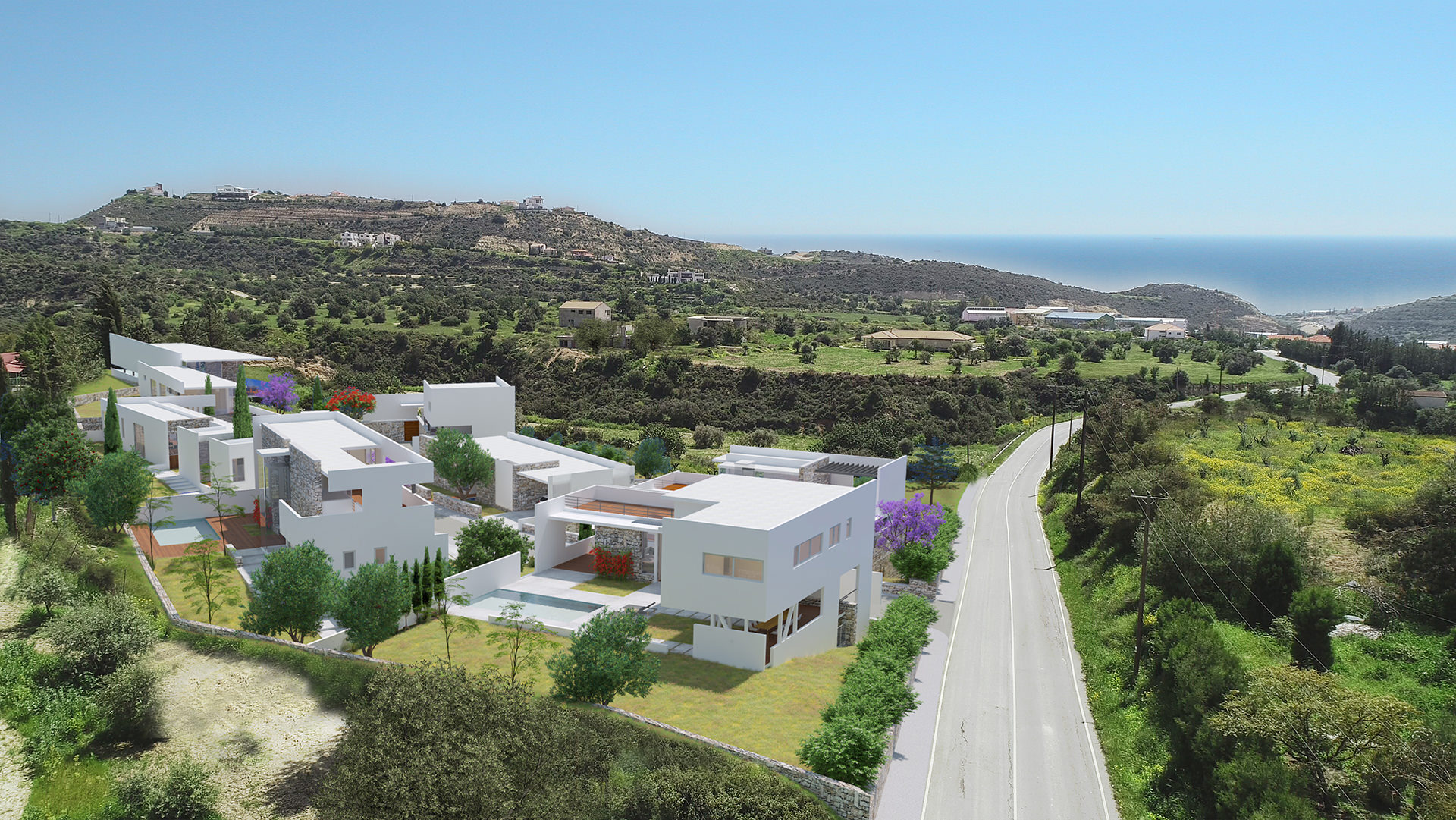 CONCRETE STRUCTURE / FOUNDATION AND WALLS
Foundation, walls made in concrete • Internal walls with bricks • Concrete walls with local stone according to the drawings
METALLIC STRUCTURE
Floors made in concrete • Walls made in gypsonboard • Τhermal insulation between the walls
DOORS AND WINDOWS
Entrance door • Fire safety door wooden – wood color., handles included • Internal doors • Italian design hollow door laminated, handle included • External doors and windows • Sliding doors and windows of silver anodised aluminum double-glazed low e glass • Mosquito net included
KITCHEN BENCH TOPS AND CABINETS
Marple tops granite or technogranite • ready-made italian kitchen with laminated doors • worktop laminated of 3cm h, techongranite fitted with bowl sink and provision for cooker hob, re-circulating hood • dishwasher and refrigerator electrical appliances included
BEDROOMS CUPBOARDS
Laminated chipboard internally, laminated doors, handles included
FLOOR AND WALL TILES
Bath, shower and toilet rooms • Italian made ceramic tiles
KITCHEN FLOOR
Italian made ceramic tiles
LIVING INTERIOR FLOORS
Italian made ceramic tiles and/or wooden parquet
BEDROOM FLOOR
Laminate parquet (3) or wooden • Verandas • Deck Floor or cement according to plans
PAINTS
Walls and ceiling • Spatula and 3 coats of emulsion paint
SANITARY WARE
From reputable manufacturers
ELECTRICAL INSTALLATION
Each house will consist of Smart Home installation for automation • Concealed circuits and all other installation in compliance with the Electricity authority of Cyprus (EAC) regulations will comprise of circuits for lights fixtures and power points for kitchen appliances, central TV antenna, telephone and internet points, points in bedrooms, living room.
PLUMBING
Pipe in pipe system with maniforms for hot and cold water • Pressured water system • Chrome tops, water mixers and other fixtures are included.
COLD WATER SUPPLY
From local authority's mains.
HOT WATER SUPPLY
Solar system with panels and reservoir tank 800lt.
HEATING-COOLING
Provision for VRV system for cooling and heating • Provision for electric heaters • Under floor heating
ELEVATOR
Manufacture and installation from a reputable contractor
SECURITY
Provision for wireless alarm system in each villa with CCTV cameras
The company reserves the right to make any alternations to the plans and technical specifications, which might become necessary due to an aesthetic or technical reason